Emily Elizabeth Gibbins

BA (Hons) Fashion Buying and Merchandising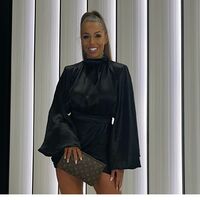 Studying Fashion Buying and Merchandising was something I had always wanted to do from a young age and I am so proud of everything I have achieved. This course has allowed me to gain further insight into the fashion industry, each year has gave me a clear understanding into what Fashion Buying and Merchandising entails but also the other career pathways that are available.
The support from my tutors and lecturers has been incredible throughout my time at university particulary with the challenges I have had during my my studies, this has allowed me to continously excel in my work for each module.
Whilst my university experience has been impacted by the pandemic, my final year enabled me to use each project to showcase everything I have learnt during my time at MMU. My favourite project was my final major project where I decided to follow the business pathway, this allowed me to develop my own business from start to finish with the invaluable support from my lecturers who have industry experience and knowledge, from this I have been able to create a business I hope to pursue in the near future.
Throughout my final year I have faced many challenges along with constantly worrying about securing a job before I finished my degree, as I decided to not do a placement after my second year. However, the continous support from my lecturers encouraged me to keep a postitive outlook and use the experience and knowledge I have gained from my time at university and the part time jobs I have had with companies including Kurt Geiger, House of CB and Topshop.
I am so excited to have secured my first role in industry as a Buying and Sample Co-Ordinator at Sosandar before I finished my course in May, this was the first job I applied for and secured this role before finishing my degree in March, where I worked part time whilst finishing my degree.