Abby Brooks

BA (Hons) Fashion Promotion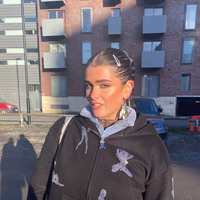 During my time studying Fashion Promotion, I have specialised in marketing, social media and campaign work due to my ability to analyse market gaps, identify brand needs and create a commentary on social issues. I have been specifically influenced by sustainability and mental health awareness; and the brands I choose normally fall within the subcultural & streetwear category.
My most successful project to date is the hypothetical Berghaus 'Looking Back to Look Forward Campaign'; which entailed self-executed research, campaign planning, photography, casting, editing and art direction, resulting in an educational yet visually stimulating lookbook featuring my photography. This related the brand's youth and rave culture relevance to encourage Gen Z to avoid overconsumption, shop second hand and ensure aftercare on garments already owned - due to modern issues of greenwashing and a rapid trend cycle. The styling combined elements of 2000s fashion, walking gear and rave-wear for a modern take on youth style, and the neon lighting replicated that of nightlife.
The complete lookbook can be found on my website.