Awards haul for students at Graduate Fashion Week
08 June 2018
Four fashion students picked up prizes at the prestigious annual design event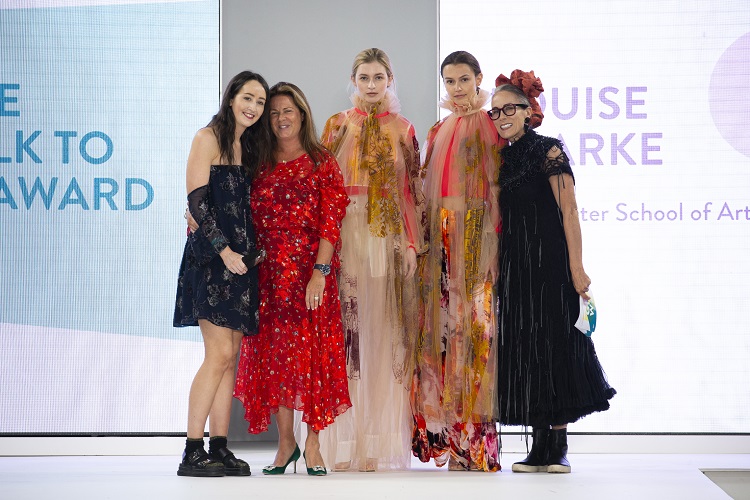 Fashion students from Manchester Metropolitan University took home a clutch of awards at Graduate Fashion Week.
Four students from Manchester School of Art and Manchester Fashion Institute were awarded prizes – out of the 30 on offer - at the annual event that celebrates the very best young design talent in the country.
Award successes cover both the traditional catwalk shows and industry prizes – reflecting the variety of fashion courses on offer.

Winners
Sebastian Collinge (BA Fashion Buying and Merchandising, Manchester Fashion Institute) – New Business Award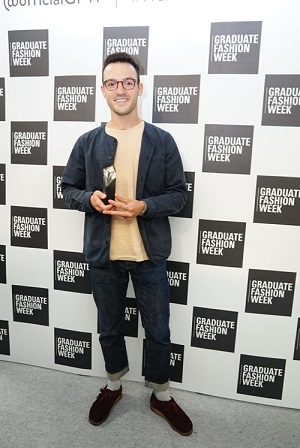 Sebastian won the New Business Award for his shoe and garment protector brand Attirecare.
Eligible students were asked to propose a new business idea within the fashion and lifestyle industry that is innovative and fills a gap in the marketplace. The idea, relevant market and demographic research, business plan, budget and promotional ideas were required to be presented in a creative report format.
Attirecare, demonstrated to British Fashion Council Ambassadorial President David Beckham on his visit to the University last month, offers a range of different products consisting of cleaners, shoe protectors, detergents, deodorisers and stain removers.
Speaking to Graduate Fashion Week, Sebastian said: "I'm feeling overwhelmed. When you've worked on something so hard and for so long and it's finally come to life and to be able to win an award like this is a dream come true."

Niamh Carr (BA Fashion Design and Technology, Manchester Fashion Institute) – Lenzing Sustainable Denim Competition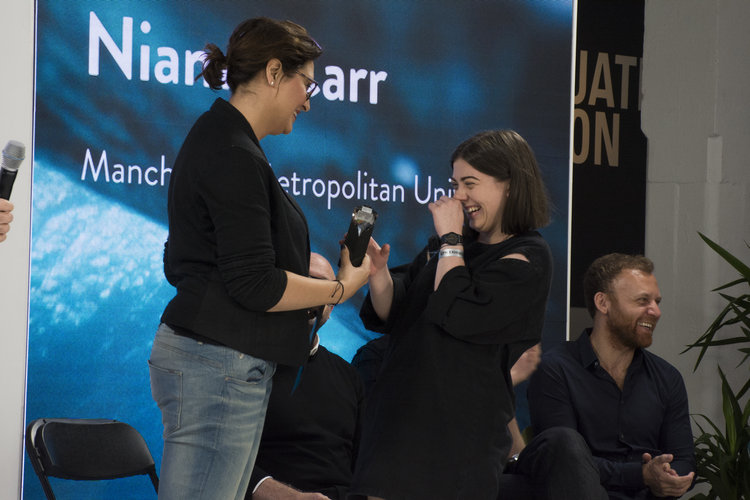 This award focuses on sustainability in fashion with candidates asked to consider not only the style but also have a good knowledge of the marketing of the product and the materials.
John Earnshaw, Senior Lecturer in Fashion Design, said: "Niamh is a considerate menswear designer, who has designed a functional denim collection with an ethical conscience - her work promotes the use of sustainable fabrications and ethical manufacture.
"At Manchester Fashion Institute we produce creative designers that have a deep understanding of industry practices and embed sustainability into our curriculum. We are thrilled that Niamh has won this award and wish her all the best for her future career within the industry!'

Louise Clark (BA Fashion, Manchester School of Art) – George Catwalk to Store Award, Best of Graduate Fashion Week Finalist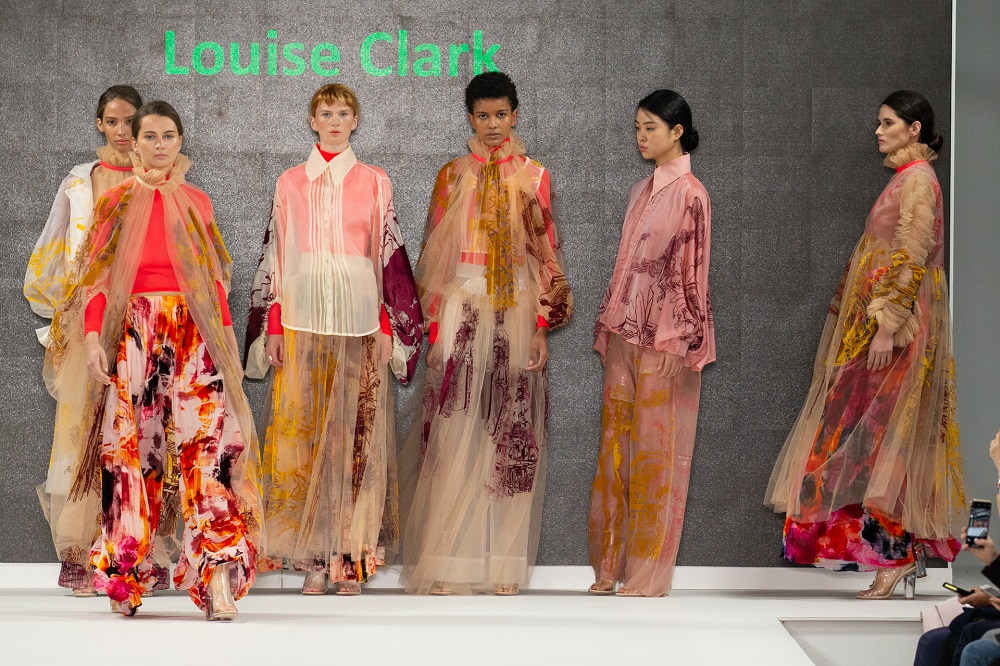 The George Catwalk to Store Award is given to a graduate collection that demonstrates design excellence and strong commercial potential, constructed to a high level of finish, designed and ready to be placed on sale in a retail store.
Judges consider design resolve and commerciality, market appeal and appropriateness of manufacture in their deliberations.
Louise Adkins, Senior Lecturer in Fashion at Manchester School of Art, said: "Louise is a highly talented and exciting new designer specialising in textiles womenswear. She has developed an innovative and original collection working with Devoré and flocking printing techniques to produce a beautiful final collection. She is a real star and one to look out for."
Jennifer Healy (BA Fashion, Manchester School of Art) - Tu Sainsbury's Womenswear Scholarship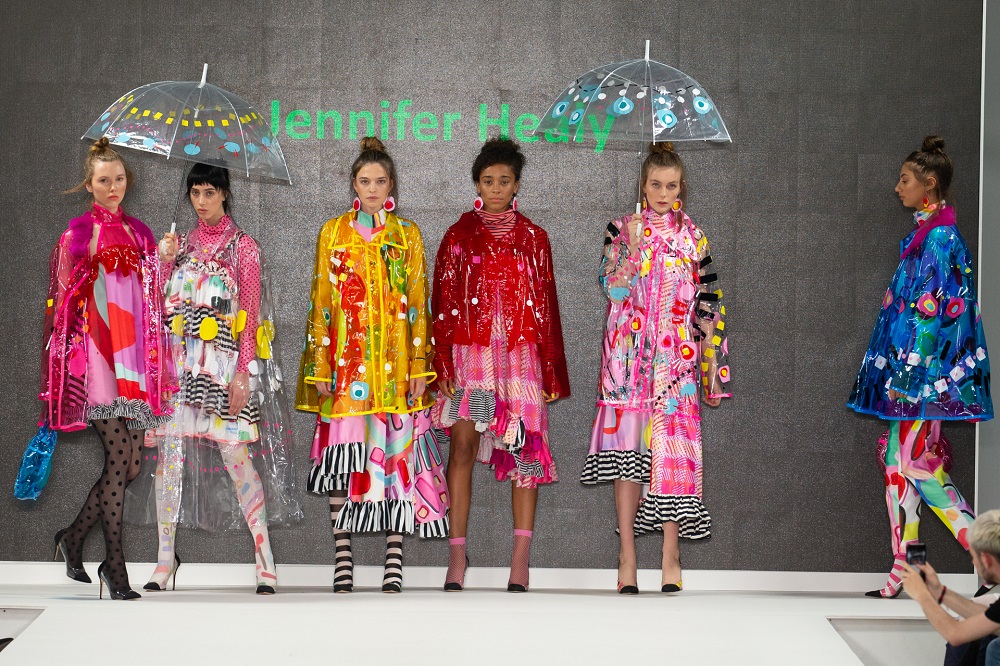 Jennifer's playful and kitsch womenswear collection inspired by abstract art and 1960s fashion turned the judges' heads in this category.
She receives a £19,500 year-long placement and the opportunity to have their collection developed into the Tu clothing range with additional mentoring from a designer.
Judges were looking for originality within either womenswear or menswear specific product design, to have strong trend and theme awareness, colour direction, print/graphics knowledge and fabric intent.
Louise Adkins said: "This is a wonderful conclusion to a great year for Jennifer who has developed a young and exciting womenswear collection incorporating bright prints and innovative uses of transparent PVC fabrics. I am sure that Jennifer will be a great asset to the Tu brand."